The Ruins of Tatsukawa Nakajuku / Tatsukawa Copper Refinery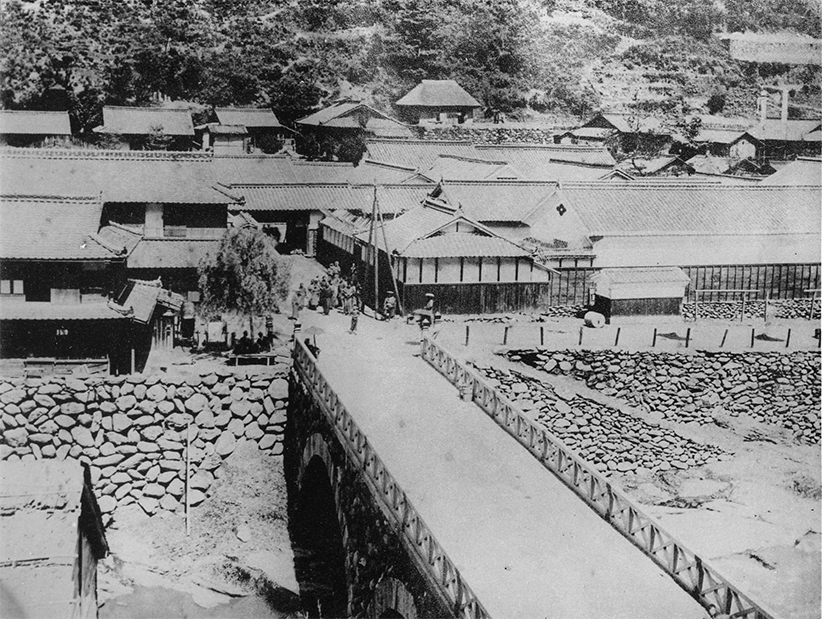 Established in 1702, this site became the mid-point base for transporting goods between the Besshi Copper Mine and Niihama Kuchiya marketplace (specializing in copper mining supplies and servicing small cargo vessel carrying raw copper to and from Osaka).
During the Edo Era, the rugged mountain trail between Tatsukawa Nakajuku and Besshi Copper Mine, there were people called "Tatsukawa Nakamochi" who carried loads of supplies up and raw copper downhill, storage facilities, "Tatsukawa Nakajuku" was built to temporarily store copper, rice as well as various supplies surrounded the area.
In result of the government in 1869 approving final stage refineries at Yamamoto, Besshi Copper Mine manager, Saihei Hirose built the new Tatsukawa copper factory replacing the Osaka Unagidani.
In 1876, restructuring led to the opening of the Tatsukawa marketplace, and in 1882, it became the Tatsukawa branch, handling copper production, accounting, and transportation offices.
However, due to the nearly completed Besshi Mine Railway (1893), in April 1891, when the duplex ropeway between Hadeba and Ishigasanjo route was completed, the transportation service of Tatsukawa branch came to an end.
In addition, when copper production of the Sobiraki Smelter started operating in 1888 got on track, all unprocessed raw copper was to be refined into molded copper at the same location, and in May 1891, the Tatsukawa branch became a branch office of the Niihama branch.