The Ruins of ox carts road and Meganebashi Bridge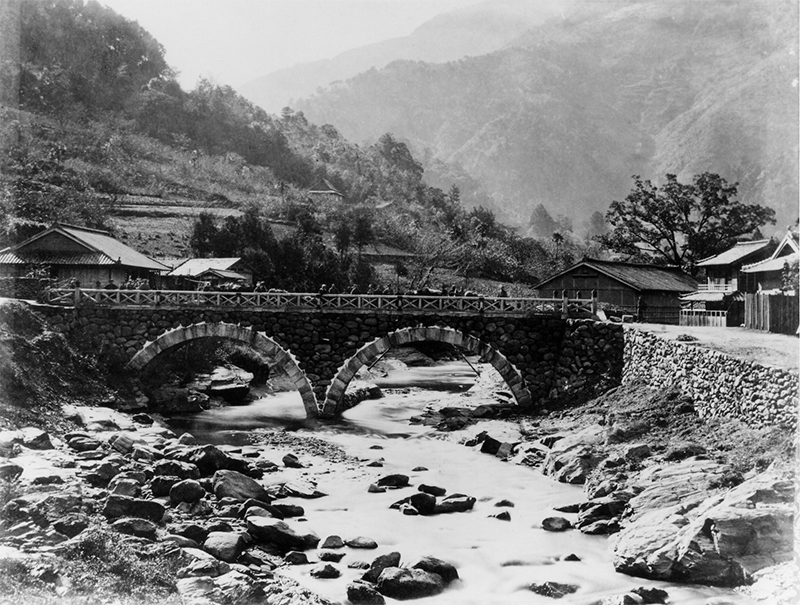 Since its start of mining, the ox carts road was a new road to replace hand carrying laborers.
Construction began in 1876, but suspended temporarily due to the difficulty in securing workers and gunpowder since the Seinan War broke out in 1877, as well as and due to technical limitations.
Roadwork restarted in 1878, and completed in 1880, with a distance of 20km from Mettamachi town to Tatsukawa Nakajuku via Dozanho / Ishigasanjo.
The following year, approximately 8 km from Tatsukawa Nakajuku to Niihama Kuchiya marketplace, as well as 28 km between Besshiyama's Mettamachi and Niihama Kuchiya marketplace began operation.
Oumi cows that pulled ox carts were brought from the hometown of Saihei Hirose.
In 1878 as a part of the ox carts road, the Meganebashi Bridge was made partially of granite crossing over the river at the entrance of Tatsukawa Nakajuku. The bridge gets its other name (Fukyubashi) for being so sturdily built. (Fukyubashi means "immortal bridge")
During the Besshi Flood of 1899, thanks to its robustness, the bridge served as a dam, holding back mud and debris which was later released and flowed through.